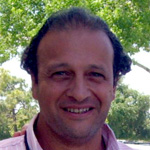 Especialidad
---
» Cirugía
Cirugía Artroscópica
» Ortopédia y Traumatología
Especialista en Hombro y Rodilla - Especialista en Cirugía Artroscópica

Información
---
Cirujano Artroscopista de Rodilla y Hombro. (Asociación Argentina de Artroscopía).
Especialista Recertificado de la Asociación Argentina de Ortopedia y Traumatología.
Miembro Titular de la Ascociación Argentina de Traumatologia del Deporte.
Miembro Internacional Afiliado de American Academy of Orthopaedic Surgeons (AAOS)
Miembro Activo de la Internacional Society of Arthroscopy, Knee Surgery and Orthopaedic Sports Medicine (ISAKOS).
Miembro de la Comisión Directiva de la Asociación Argentina de Cirugía del Hombro y Codo.
Coberturas
---
» ASMEPRIV
» CMSALUD
» COBERMED
» ENSALUD
» GALENO
» MAGNA SALUD
» MEDICAL CORPORATIVE TRADE
» MEDICALS
» MEDICUS
» MITA
» OMINT
» OSDE
» OSDIPP
» PARTICULAR
» PROGRAMA DE SALUD
» SANCOR SALUD - Staff Médico
» SUME
» SWISS MEDICAL GROUP
» VIP
» WILLIAM HOPE

Horarios
---